We Are Boundless, And We Are Different
Boundless Weddings' high-end photography and cinema expertly balances fine art perfection with relationship storytelling like no other wedding photography company in Toronto. Our deep-rooted philosophy is a combination of your perfect love story and candid photojournalistic and cinematic mastery.
Boundless Weddings has been voted one of Toronto's top 15 wedding photographers, and it's not for just our great imagery! It's the entire Boundless package. You'll fall in love with your team, just check out our reviews!
We value the time, care and effort you've put into creating your perfect wedding day, and we want to do everything we can to help you to enjoy every moment of it.
Our studio is conveniently located, and provides a fun and relaxing atmosphere where we can get to know each other and chat about your love story.
Plus, with over a half a million photos, and five hundred videos to show you on our 4K presentation screens, you'll have plenty of opportunity to see why Boundless is the perfect choice for your wedding.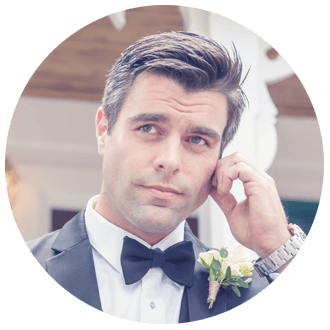 Dear Future Boundless Couple,
I got married on a perfect day in June 2016 to the most amazing woman I've ever known. We started to plan the details soon after our engagement, and very quickly realized that choosing vendors was the most difficult task of all. We found it almost impossible to trust a complete stranger with the most important day of our lives. We didn't know if they would be as good as they claimed, or even show up on time. This anticipation in itself causes stress.
Going through this process has changed the way I operate Boundless Weddings and provide services to our brides and grooms. I know personally what you're going through as you try to create your perfect day, and I know what it takes to exceed your expectations. For Boundless, wedding photography and cinematography is a full-time job, with full-time employees and a full-time studio location.
We don't work from home on the weekends; your wedding is too important for a part-time focus
Our back-up system is neurotic and tedious, but guarantees the safety and security of your memories
Our turn-around time is best in the industry, with a guarantee to deliver your memories faster without compromising quality
And, most importantly, we have hundreds of brides and grooms, and countless photos to showcase our creativity, passion, and dedication to perfection.
The two of you are insanely busy people, and we understand that you're going to get even busier as your wedding day approaches. You need to enjoy the moment, not spend your time making sure we're doing our job! Trust Boundless Weddings with your wedding day, and I personally promise you'll love every moment.

Jason Wilton
Photo, Film, Editor
Ricardo Dionisio
Photo, Editor
Mark Cannataro
Film, Editor
Every two weeks we send our subscribers a selection of invaluable tips, guides and advice from industry experts focusing on everything you need to know in order to have a smooth, enjoyable and, most importantly, stress-free run up to your big day!
If you've got a forthcoming wedding celebration, you can't afford to be without it!