Boundless Weddings' high-end photography and cinema expertly balances fine art perfection with relationship storytelling like no other wedding photography company in Toronto.
The perfect captures are when the subject is most natural, and we know precisely how to bring out those perfect moments, even in the most posed photos.
Your wedding day is a celebration, it's not a photo-shoot, our teams work around your wedding to get the most breathtaking captures possible with the least amount of disruption to the day.
We see things in ways that others don't, and we quickly come up with absolutely stunning photo concepts as quickly as your wedding day will fly by. By using our surroundings to the absolute max, you'll enjoy many angles, poses, and memories.
Our Studio is WPIC Certified
We're fully-qualified wedding planners, certified by WPIC, and adhere to the strict ethical guidelines that ensure you, the couple, always come first.
We keep three copies of your photos and videos until they are safely in your hands, then we back up, twice, and retain your data for as long as possible.
Our Photographers are Insured
We have full liability insurance to keep you completely protected during your wedding day. This is one of those things you'll be happy that we have should something unexpected happen.
You'll fall in love with your team, just check out our reviews on Wedding Wire! We value the time, care and effort you've put into creating your perfect wedding day, and we want to do everything we can to help you to enjoy every moment of it.
"When you combine opportunistic thinking, beautiful photojournalism, perfect cinematic imagery, and a real passion for love stories, you get Boundless Weddings"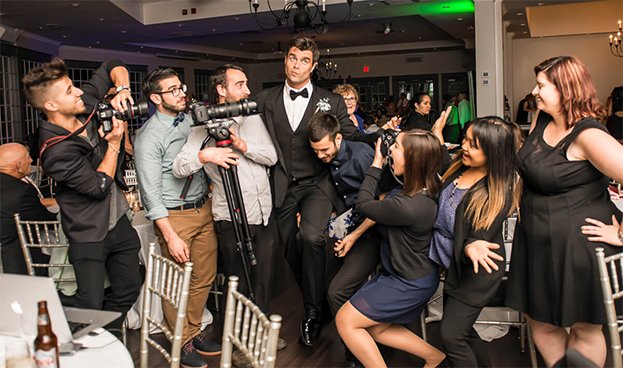 Going through this process has changed the way I operate Boundless Weddings and provide services to our brides and grooms.
Dear Future Boundless Couple,
I got married on a perfect day in June 2016 to the most amazing woman I've ever known. We started to plan the details soon after our engagement, and very quickly realized that choosing vendors was the most difficult task of all.
We found it almost impossible to trust a complete stranger with the most important day of our lives. We didn't know if they would be as good as they claimed, or even show up on time. This anticipation in itself causes stress.
I know personally what you're going through as you try to create your perfect day, and I know what it takes to exceed your expectations. For Boundless, wedding photography and cinematography is a full-time job, with full-time employees and a full-time studio location.
We don't work from home on the weekends; your wedding is too important for a part-time focus. Our back-up system is neurotic and tedious, but guarantees the safety and security of your memories. Our turn-around time is best in the industry, with a guarantee to deliver your memories faster without compromising quality.
And, most importantly, we have hundreds of brides and grooms, and countless photos to showcase our creativity, passion, and dedication to perfection.
The two of you are insanely busy people, and we understand that you're going to get even busier as your wedding day approaches. You need to enjoy the moment, not spend your time making sure we're doing our job! Trust Boundless Weddings with your wedding day, and I personally promise you'll love every moment.

"You did an amazing job! Thank you so much! Our guests are raving about you and your team!"
Elizabeth & David, Boundless Couple
+ More Testimonials
"THANK YOU for making our wedding events so memorable and enjoyable! You made us - and our families and guests - very comfortable with your presence and professionalism. We had many people say how impressed they were. "
Karim, Boundless Groom
+ More Testimonials